Video Transcript: Is Frankincense Oil for Cancer a Good Natural Alternative?
Ty Bollinger: And you mentioned the essential oils—one of the things that you all did. What oils did you use?
Dr. Axe: The primary oil at the time—we started using was oil of oregano. Oil of oregano is packed with some incredible compounds, thymol, carvacrol. One of the things that she [Dr. Axe's mother] had chronic issues with is digestive issues. She had leaky gut, chronic constipation, and severe issues with yeast. So she was constantly craving sugar. She even developed a toenail fungus, major yeast and candida issues.
So we started doing oregano oil, three drops, three times a day internally, as well as topically on the toenail. It was amazing. When she had tried creams and all of these different things in the past, antifungals, and she started doing the oregano oil and after two months it completely cleared up that issue. So I mean, oregano oil was an incredible part of her treatment.
Now, today we also have her using frankincense oil on a regular basis. And frankincense oil, if you look at the research today, it is probably the most powerful essential oil, if not the most powerful supplement period when it comes to natural cancer treatment, in my opinion.
Ty Bollinger: What's in frankincense that makes it so good?
Dr. Axe: You know, frankincense is really high in a compound called boswellia or boswellic acid and it's highly anti-inflammatory. It's also a very powerful anti-oxidant. There's a study that came out of the UK pretty recently showing that frankincense oil is effective at shrinking tumors. It's effective against ovarian cancer, colon cancer, and breast cancer. And so that boswellian in frankincense, very, very powerful compound at fighting and treating cancer.
Ty Bollinger: So you mentioned the inflammation, it helps with inflammation. So could it be effective at—that's one of the reasons it's effective at brain cancer because of the inflammation of the brain.
Dr. Axe: Well, you got it. And one of the most incredible things about frankincense is that the essential oils themselves are very, very small molecular compounds. Most everybody knows this in cancer treatment, that chemotherapy is not effective at treating any sort of cancer of the brain because it can't pass through the blood brain barrier. Versus frankincense oil, those compounds are so small they can actually pass through the blood brain barrier and start to reduce that neural inflammation.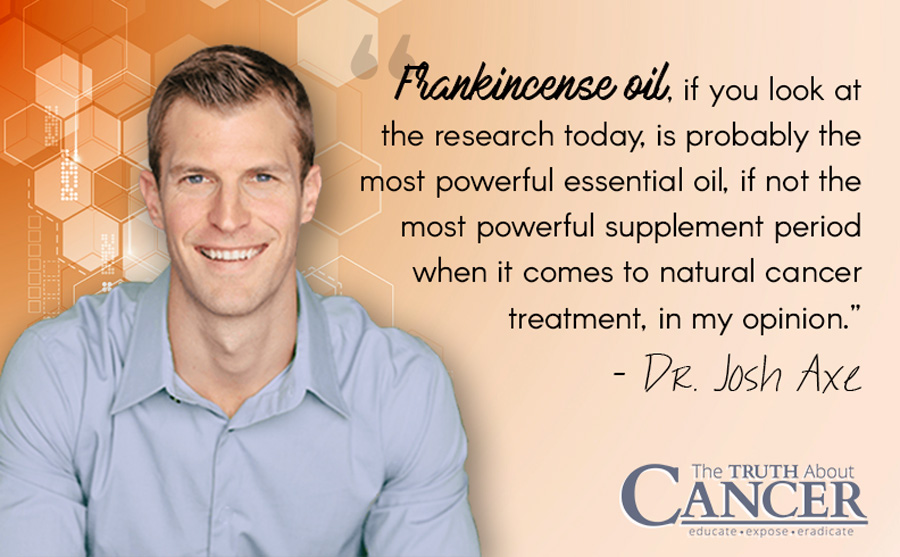 I'll tell you an incredible story. I was speaking recently and had somebody come up to me at the end after talking about essential oils and she said, "I can attest to what you're talking about with frankincense oils." She said, "My husband was diagnosed with a brain tumor six years ago and was given three months to live. We got turned on to frankincense oil, started using it every single day. We diffused it in the home, we rubbed it on the roof of his mouth." She says, "It's been six years and he's still alive and we really believe it's because of this use of frankincense oil."
But you look in the medical studies, it's effective against Alzheimer's, it's effective against any sort of brain inflammation. And again, four separate studies showing that it's effective at treating cancer.
Ty Bollinger: That's amazing. So in the Bible, the wise men that gave baby Jesus the frankincense and the myrrh, maybe they weren't giving him just precious gifts, they were giving him medicine.
Dr. Axe: Absolutely. When you hear the story of the three wise men bringing the infant Jesus gold, frankincense, and myrrh—I remember years and years ago not really knowing—I mean, everyone knows what gold is, most people don't realize what frankincense and myrrh are. But those were the two main sources of medicine during that day.
And frankincense, actually, at the birth of Jesus would have been used. Because you look at children right after they're born, oftentimes there's bruising and sometimes it's a traumatic experience and so they would have actually rubbed frankincense oil on a child, which actually helps bring down that inflammation and swelling. Also, it's great for supporting and protecting the immune system. So if he was exposed to different types of pathogens at that time, frankincense oil really protects the body. So absolutely, Ty, I mean, frankincense oil was used as—it was more than just a sweet smelling fragrance, it was the biblically based medicine.
Have you used Frankincense essential oil as part of a healing journey? Please share your thoughts and tips in the Comments section below.