Video Transcript: What My Mom Did to Heal Breast Cancer Naturally
Dr. Axe: You know, my mom's actually battled cancer twice. The first time a little over 20 years ago and it actually came as a shock to our family. My mom was diagnosed with breast cancer at 42. Growing up, my mom was my gym teacher at school. She was a swim instructor. So always really fit, active, and healthy, but yet diagnosed with cancer.
My family lived in, what I call the "medical model" at the time. And we were always taking drugs, my mom was always taking some sort of medication, but she went and had a mastectomy. She went through rounds and rounds and rounds of chemotherapy. And Ty, I can still remember to this day seeing my mom's hair fall out. I remember looking at her after the chemo treatments and thinking she had aged 20 years in two weeks. And just saying to myself, "You know, I never want to see anyone have to go through that again." That's really what drove me into being a physician—is seeing how sick she was.
So she was diagnosed as being cancer free and healthy, but really, for the next ten years after she went through chemotherapy, she was really sicker than ever. She spent half of her days in bed. I remember she'd get home from work at 3:30 and sleep until 6:00 every night. She struggled with depression. She struggled with chronic fatigue, anxiety issues, and leaky gut, digestive issues, just sick all the time.
Ten years later, I was actually working as a nutritionist in Orlando and finishing up my doctorate and she called and said, "Hey, I've been diagnosed with cancer again. What do I do?" I flew home from Florida to Ohio and we sat down and prayed together. And I just said, "Mom, I think we need to take care of you all naturally."
So we started an all-natural treatment program and she started juicing vegetables every single day. We had her start doing antioxidant rich foods, loads of probiotics, and using things like essential oils in helping her body heal. We followed this treatment protocol for about four months, went back to the oncologist—and their first recommendation was surgery and radiation immediately—and we followed it for four months. After four months went back to the oncologist, got a CT scan, he called us two days later and he said, "This is incredible, we don't see this…" He said, "But the tumors have shrunk more than half." He said, "Keep doing whatever you're doing."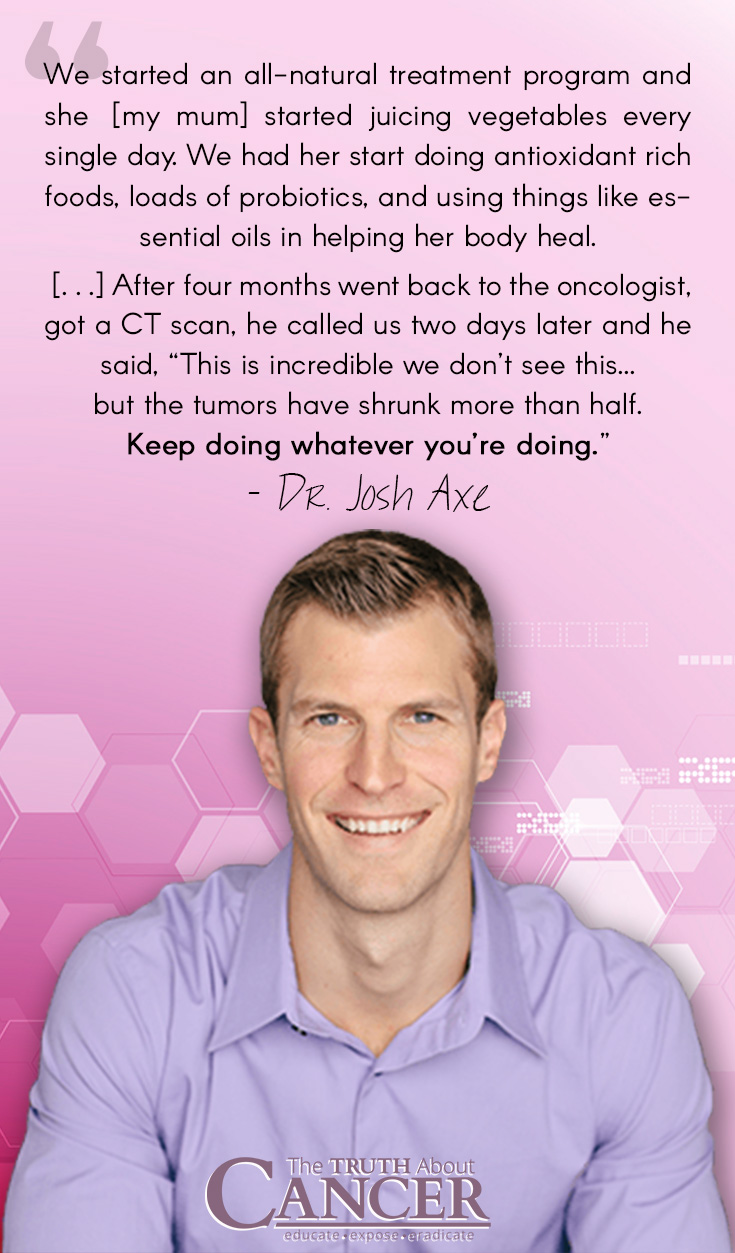 Ty Bollinger: Whatever you're doing is working, right?
Dr. Axe: He said, "Come back in nine months." We went back nine months later and complete remission. And today my mom is in the best shape of her life. In fact, her and my dad just retired from Ohio down to Florida and she water skis every day. She's ran three 5Ks with me in the past few years and gotten second and third in her age group.
She says she actually feels better now in her 60s than she did when she was in her 30s. So she actually now teaches people how to use essential oils, and make healing smoothies, and juicing vegetables, and how to ferment their own food. So she just is a—she's doing amazing.
Ty Bollinger: That's awesome.
Have you healed your own cancer naturally (or are working on it)? Please share some of your best advice in the Comments section below the article.