TTAC is experiencing heavy censorship on many social media channels since we've been targeted by the mainstream media sellouts, social media bullies, and political turncoats. Be sure to get the TRUTH by subscribing to our email list. It's free.

Yet another installment of the "Twitter Files" has been released. This time, internal communication from the Financial Times warned Twitter employees that we – SPECIFICALLY – be banned. This email was sent on March 23, 2021 – less than a WEEK before our Twitter accounts were unceremoniously OBLITERATED.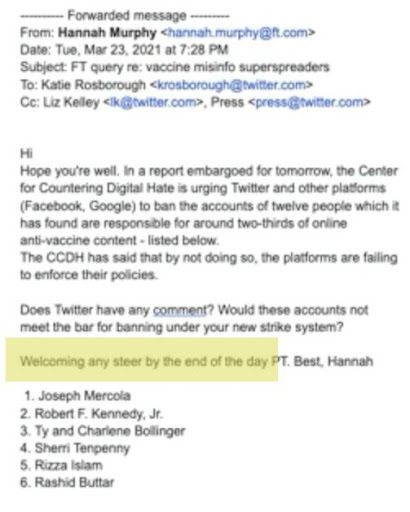 The Truth About Cancer and The Truth About Vaccines were attacked swiftly and vigorously by virtually every major social media platform. All on the grounds of what they had deemed "misinformation." Here's just a sampling of that censorship:
We were de-platformed from five Twitter channels, each of which had tens of thousands of followers, shortly after March 30, 2021.

(We are still waiting to be reinstated on Twitter following Elon Musk's purchase of the company. You can help by tweeting @elonmusk and asking him to reinstate us.)

The Truth About Vaccines account was de-platformed from Instagram on March 25, 2021.

Our personal Instagram accounts were de-platformed on October 21, 2021.

The Truth About Vaccines channel was de-platformed from YouTube on May 17,2021.

The Truth About Cancer channel, which had more than 200,000 subscribers and more than 40 million views, was de-platformed from YouTube on July 22, 2021.

The Truth About Vaccines account was de-platformed from Vimeo on May 13, 2022.

We continue to be heavily shadow-banned on Facebook and can no longer effectively communicate with our millions of followers.

(At the bottom of this page, you can find a list of our alternative social media accounts as well as a way to join our email list. Currently, these are the ONLY outlets you can use to access our content.)
We've been covering the Twitter Files for months now, revealing everything from election interference and secret blacklists to the Russian collusion hoax and how Twitter became a shill for the FBI, White House, and other agencies. In fact, it seems that Twitter became completely captured by these entities, serving as the censorship arm of government, legacy media, and other, powerful special interest groups. 
You can find all of those stories here. 
But the latest revelations directly concern us. "Ty and Charlene Bollinger" are mentioned BY NAME in the latest documents and it's abundantly clear that this covert censorship collusion directly contributed to our abrupt eviction from social media. We're going to share the complete story here (with receipts) so you can see for yourself. 
But first, we want to share a little bit of testimony to the House Judiciary Committee given on March 9th by Matt Taibbi. Thanks to Mr. Taibbi for being a true journalist and shedding light on what's really been going on behind the scenes. 
In his testimony before Congress, Taibbi summarized the impact of the Twitter Files well:
"The original promise of the Internet was that it might democratize the exchange of information globally. A free internet would overwhelm all attempts to control information flow, its very existence a threat to anti-democratic forms of government everywhere.
What we found in the Files was a sweeping effort to reverse that promise, and use machine learning and other tools to turn the internet into an instrument of censorship and social control. Unfortunately, our own government appears to be playing a lead role."
He goes on to summarize the findings so far from the Twitter Files investigative reporting, emphasizing the role of the FBI and DHS in directing what information was allowed on Twitter. 
"We learned Twitter, Facebook, Google, and other companies developed a formal system for taking in moderation "requests" from every corner of government: the FBI, DHS, HHS, DOD, the Global Engagement Center at State, even the CIA. For every government agency scanning Twitter, there were perhaps 20 quasi-private entities doing the same, including Stanford's Election Integrity Project, Newsguard, the Global Disinformation Index, and others, many taxpayer-funded.
A focus of this fast-growing network is making lists of people whose opinions, beliefs, associations, or sympathies are deemed "misinformation," "disinformation," or "malinformation." The latter term is just a euphemism for "true but inconvenient."
Undeniably, the making of such lists is a form of digital McCarthyism.
Ordinary Americans are not just being reported to Twitter for "deamplification" or de-platforming, but to firms like PayPal, digital advertisers like Xandr, and crowdfunding sites like GoFundMe. These companies can and do refuse service to law-abiding people and businesses whose only crime is falling afoul of a distant, faceless, unaccountable, algorithmic judge."
There are other important questions: Does censorship even work? Is it causing more harm than good? These are questions also addressed in the testimony. 
"This is why "anti-disinformation" just doesn't work. Any experienced journalist knows experts are often initially wrong, and sometimes they even lie. In fact, when elite opinion is too much in sync, this itself can be a red flag.
We just saw this with the Covid lab-leak theory. Many of the institutions we're now investigating initially labeled the idea that Covid came from a lab "disinformation" and conspiracy theory. Now apparently even the FBI takes it seriously.
It's not possible to instantly arrive at the truth. It is however becoming technologically possible to instantly define and enforce a political consensus online, which I believe is what we're looking at.
This is a grave threat to people of all political persuasions.
For hundreds of years, the thing that's distinguished Americans from all other people around the world is the way we don't let anyone tell us what to think, certainly not the government.
The First Amendment, and an American population accustomed to the right to speak, is the best defense left against the Censorship-Industrial Complex. If the latter can knock over our first and most important constitutional guarantee, these groups will have no serious opponent left anywhere.
If there's anything the Twitter Files show, it's that we're in danger of losing this most precious right, without which all other democratic rights are impossible. "
You may remember that we are suing Legacy Media for illegally colluding to silence competing rival news publishers who challenge their own views about COVID-19 in the online market. In 2019, some of the world's largest news publishers and internet companies created the Trusted News Initiative, or TNI. 
Founded by the British Broadcasting Corporation (BBC), its Legacy Media members include the Washington Post, Reuters, and the Associated Press. These news conglomerates partnered with the biggest companies in tech and social media, including Meta (which owns and controls Facebook and Instagram), Google (which owns and controls YouTube), Microsoft (which owns and controls LinkedIn), and Twitter. 
Together, these companies control at least 85% of the online social media news market, 90% of the overall social media market, 90% of the social networking market, 75% of the video hosting market, and 95% of the search-engine market.
Members of the TNI have worked together to exclude from the world's dominant internet platforms rival news publishers who engage in reporting that challenges and competes with TNI members' reporting on certain issues relating to COVID-19 and U.S. politics. 
But what these companies call a "partnership," Federal antitrust law calls a "group boycott." It is a violation of the Sherman Act and it is illegal.
While the "Trusted News Initiative" publicly purports to be a self-appointed "truth police" eradicating online "misinformation," in fact it has suppressed wholly accurate and legitimate reporting in furtherance of the economic self-interest of its members.
TNI members deemed the following to be "misinformation" that could not be published on the world's dominant Internet platforms:
1 | Claims that COVID originated in a laboratory in Wuhan, China
2 | Claims that the COVID vaccines do not prevent infection
3 | Claims that vaccinated persons can transmit COVID to others
4 | Claims that compromising emails and videos were found on a laptop belonging to Hunter Biden.
All of these claims are either true or — at the very least — up for debate and well within the bounds of reasonable reporting. 
The TNI not only prevented internet users from making these claims; it shut down online news publishers who simply reported that such claims were being made by credible sources like scientists and physicians.
THIS IS WHY WE DO WHAT WE DO. 
Every day, we work to bring you the life-saving information that is being actively suppressed by the government, media, tech, pharma, and a slew of other industries that want to profit from your illness and ignorance. Despite defamation, doxxing, and death threats, we've continued on our mission to spread the TRUTH. 
The following is an uncensored look at the shocking truth as reported by Taibbi.
When reporters were given access to Twitter internal documents last year, they first focused on the company, which at times acted like a power above the government.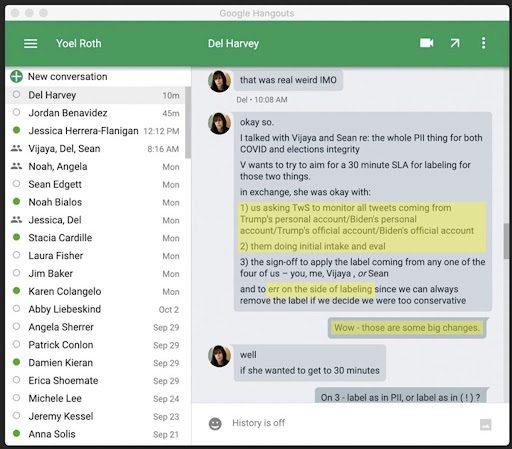 But Twitter was more like a partner to the government.
With other tech firms it held a regular "industry meeting" with FBI and DHS, and developed a formal system for receiving thousands of content reports from every corner of government: HHS, Treasury, NSA, even local police: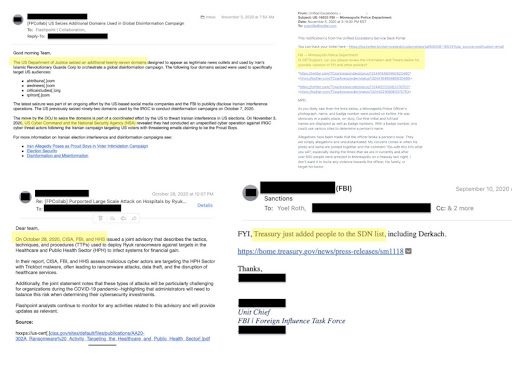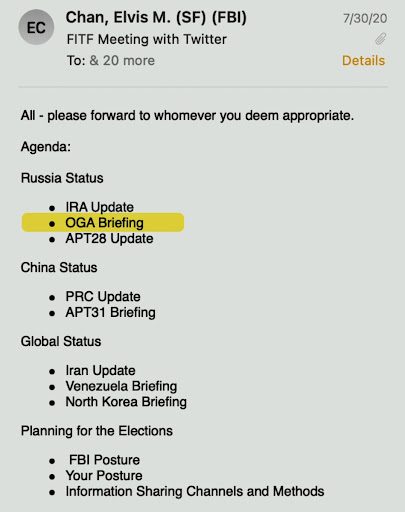 Emails from the FBI, DHS and other agencies often came with spreadsheets of hundreds or thousands of account names for review. Often, these would be deleted soon after.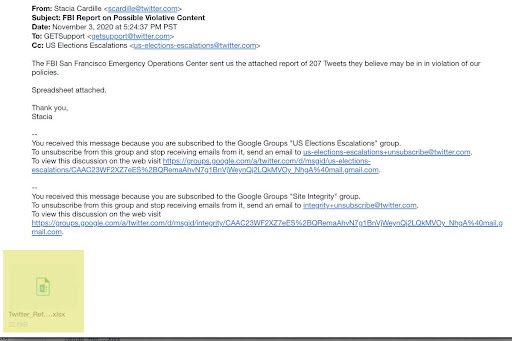 Many were obvious "misinformation," like accounts urging people to vote the day after an election.
But other official "disinfo" reports had shakier reasoning. The highlighted Twitter analysis here disagrees with the FBI about accounts deemed a "proxy of Russian actors":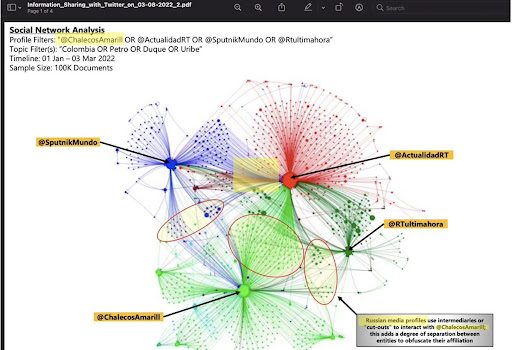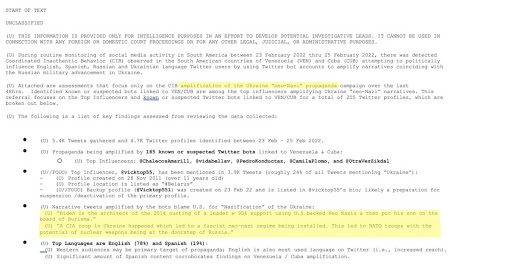 Then we saw "disinfo" lists where evidence was even less clear. This list of 378 "Iranian State Linked Accounts" includes an Iraq vet once arrested for blogging about the war, a former Chicago Sun-Times reporter and Truthout, a site that publishes Noam Chomsky.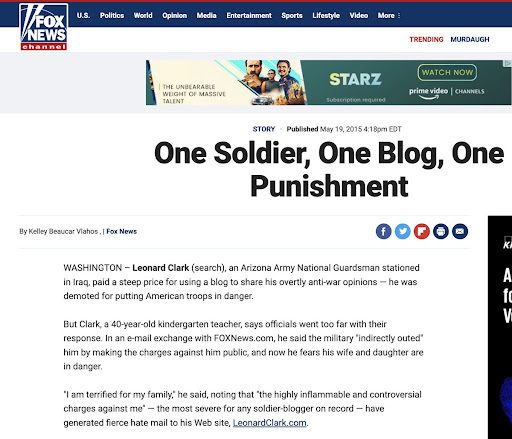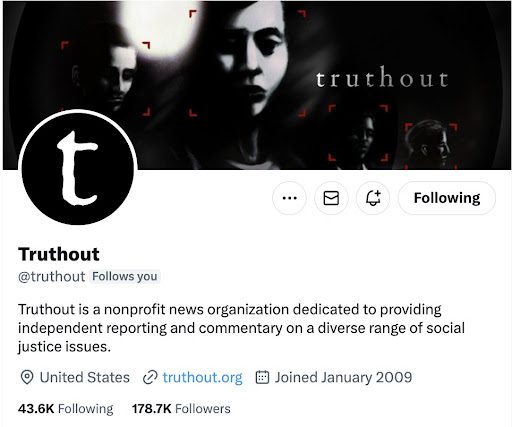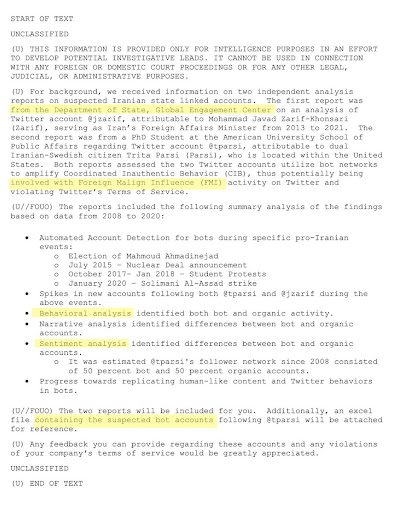 In some cases, state reports didn't even assert misinformation. Here, a list of YouTube videos is flagged for "anti-Ukraine narratives":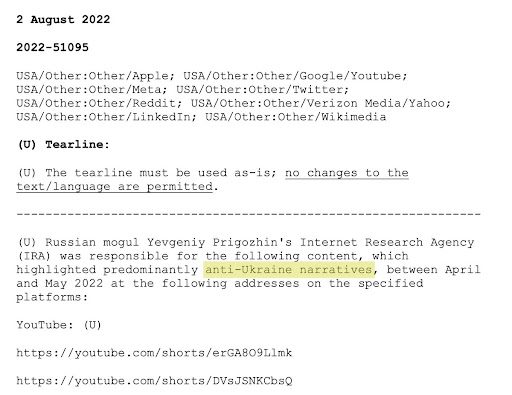 But the bulk of censorship requests didn't come from the government directly. 
Asked if Twitter's marketing department could say the company detects "misinfo" with help of "outside experts," a Twitter executive replied: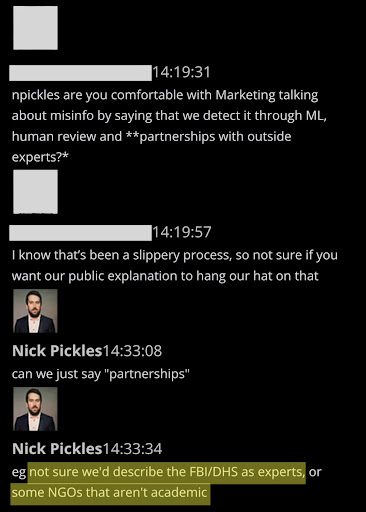 We came to think of this grouping – state agencies like DHS, FBI, or the Global Engagement Center (GEC), along with "NGOs that aren't academic" and an unexpectedly aggressive partner, commercial news media – as the Censorship-Industrial Complex. 
Who's in the Censorship-Industrial Complex? Twitter in 2020 helpfully compiled a list for a working group set up in 2020.
The National Endowment for Democracy, the Atlantic Council's DFRLab, and Hamilton 68's creator, the Alliance for Securing Democracy, are key: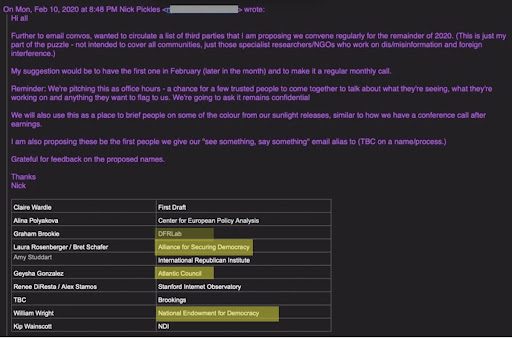 Twitter execs weren't sure about Clemson's Media Forensics Lab ("too chummy with HPSCI"), and weren't keen on the Rand Corporation ("too close to USDOD"), but others were deemed just right.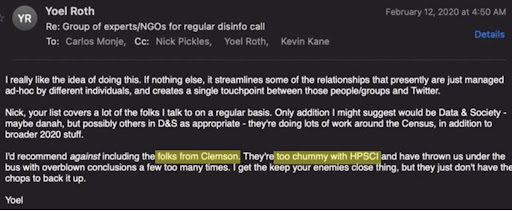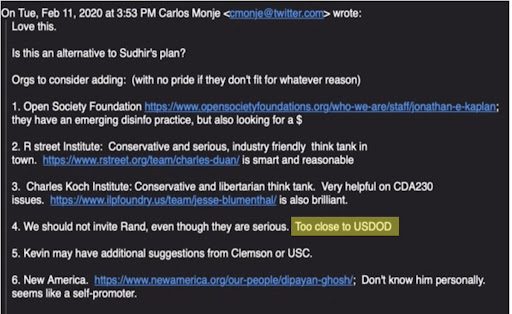 NGOs ideally serve as a check on corporations and the government. Not long ago, most of these institutions viewed themselves that way. Now, intel officials, "researchers," and executives at firms like Twitter are effectively one team – or Signal group, as it were: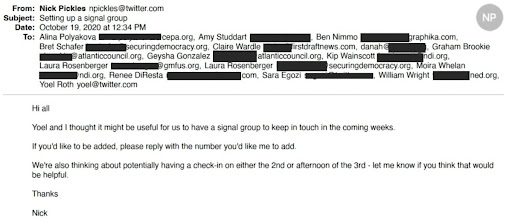 The Woodstock of the Censorship-Industrial Complex came when the Aspen Institute – which receives millions a year from both the State Department and USAID – held a star-studded confab in Aspen in August 2021 to release its final report on "Information Disorder."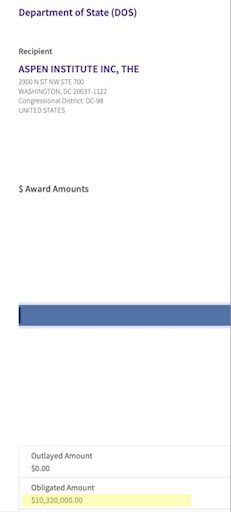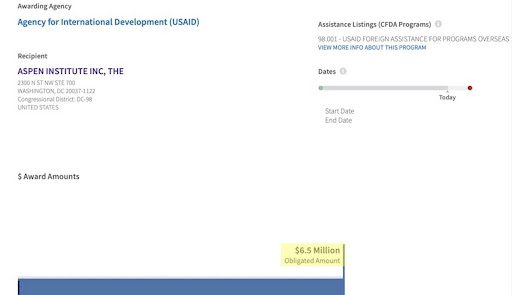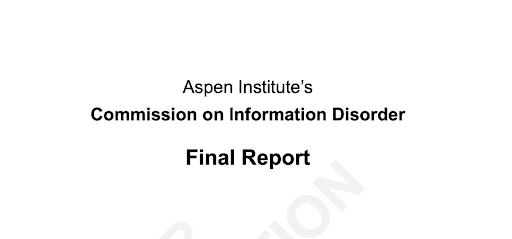 The report was co-authored by Katie Couric and Chris Krebs, the founder of the DHS's Cybersecurity and Infrastructure Security Agency (CISA). Yoel Roth of Twitter and Nathaniel Gleicher of Facebook were technical advisors. Prince Harry joined Couric as a Commissioner.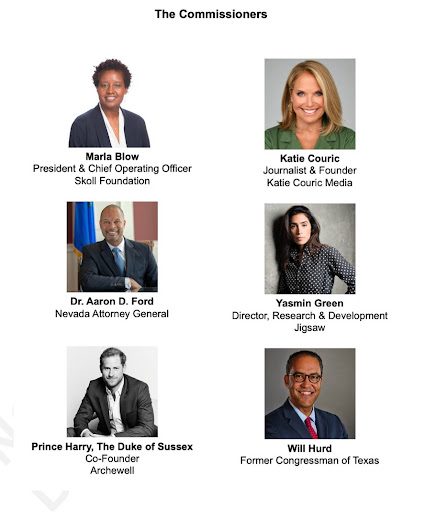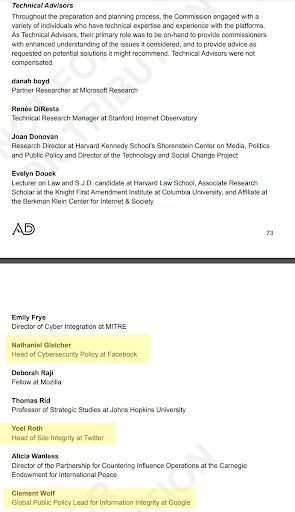 Their taxpayer-backed conclusions: the state should have total access to data to make searching speech easier, speech offenders should be put in a "holding area," and government should probably restrict disinformation, "even if it means losing some freedom."
Note Aspen recommended the power to mandate data disclosure be given to the FTC, which this committee just caught in a clear abuse of office, demanding information from Twitter about communications with (and identities of) Twitter Files reporters.
Weaponization Select Subcommittee Report on FTC Harassment of Twitter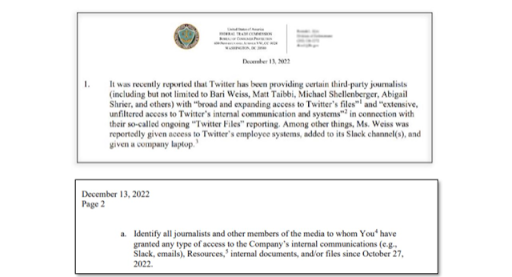 Naturally Twitter's main concern regarding the Aspen report was making sure Facebook got hit harder by any resulting regulatory changes:

The same agencies (FBI, DHS/CISA, GEC) invite the same "experts" (Thomas Rid, Alex Stamos), funded by the same foundations (Newmark, Omidyar, Knight) trailed by the same reporters (Margaret Sullivan, Molly McKew, Brandy Zadrozny) seemingly to every conference, every panel.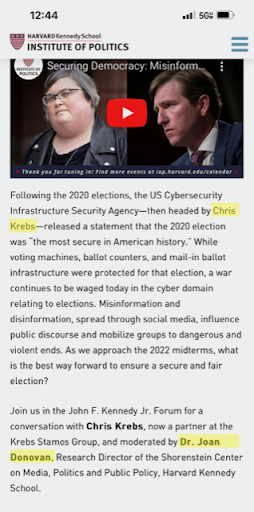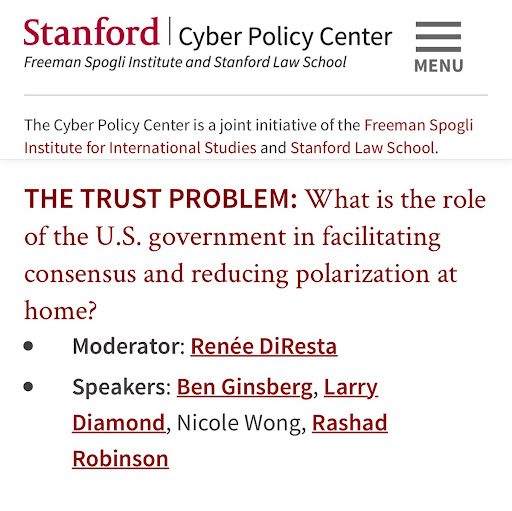 The Twitter Files show the principals of this incestuous self-appointed truth squad moving from law enforcement/intelligence to the private sector and back, claiming a special right to do what they say is bad practice for everyone else: be fact-checked only by themselves. 
While Twitter sometimes pushed back on technical analyses from NGOs about who is and isn't a "bot," on subject matter questions like vaccines or elections they instantly defer to sites like Politifact, funded by the same names that fund the NGOs: Koch, Newmark, Knight.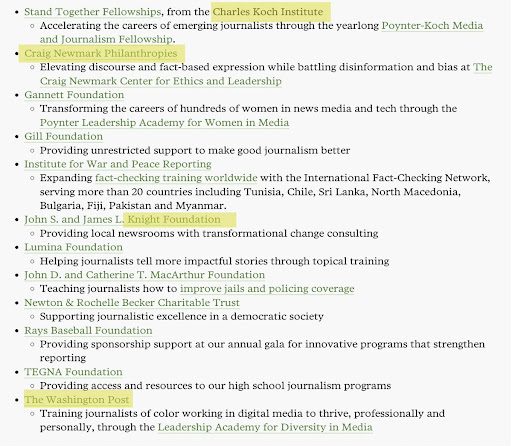 Twitter Files repeatedly show media acting as proxy for NGOs, with Twitter bracing for bad headlines if they don't nix accounts. Here, the Financial Times gives Twitter until the end of day to provide a "steer" on whether "Ty and Charlene Bollinger" and other vax offenders will be zapped.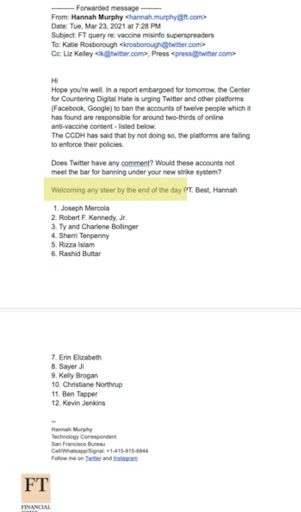 Well, you say, so what? Why shouldn't civil society organizations and reporters work together to boycott "misinformation"? Isn't that not just an exercise of free speech, but a particularly enlightened form of it? 
The difference is, these campaigns are taxpayer-funded. Though the state is supposed to stay out of domestic propaganda, the Aspen Institute, Graphika, the Atlantic Council's DFRLab, New America, and other "anti-disinformation" labs are receiving huge public awards.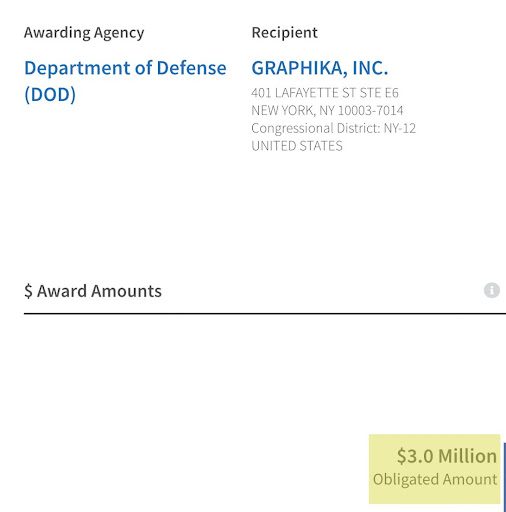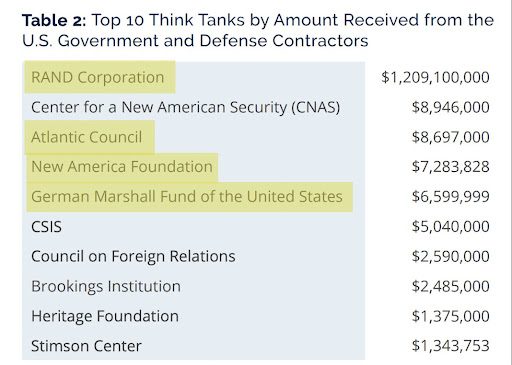 Some NGOs, like the GEC-funded Global Disinformation Index or the DOD-funded Newsguard, not only seek content moderation but apply subjective "risk" or "reliability" scores to media outlets, which can result in reduction in revenue. Do we want a government in this role?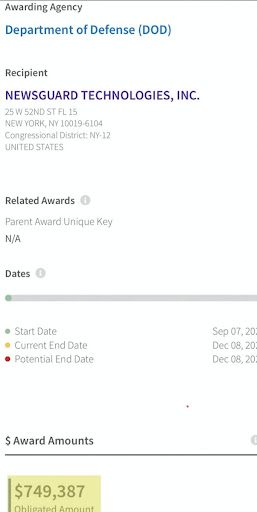 Perhaps the ultimate example of the absolute fusion of state, corporate, and civil society organizations is the Stanford Internet Observatory (SIO), whose "Election Integrity Partnership" is among the most voluminous "flaggers" in the Twitter Files: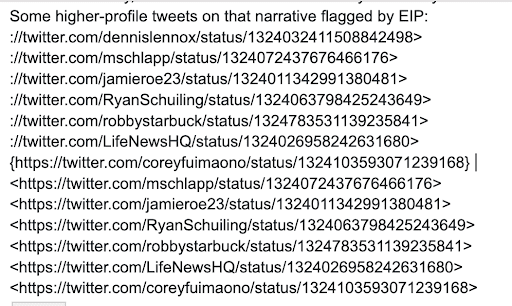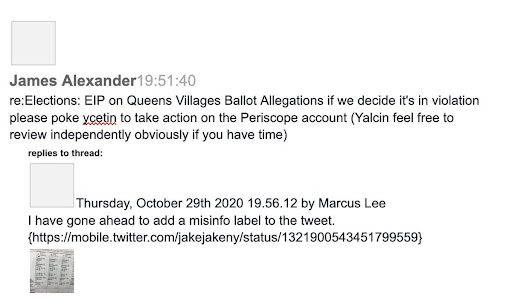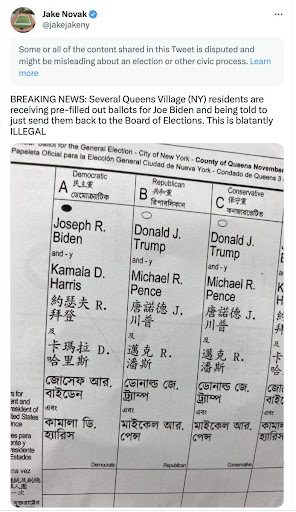 After public uproar "paused" the Orwellian "Disinformation Governance Board" of the DHS in early 2020, Stanford created the EIP to "fill the gaps" legally, as director Alex Stamos explains here (h/t Foundation for Freedom Online). 
EIP research manager Renee DiResta boasted that while filling "gaps," the EIP succeeded in getting "tech partners" Google, TikTok, Facebook and Twitter to take action on "35% of the URLS flagged" under "remove, reduce, or inform" policies.
According to the EIP's own data, it succeeded in getting nearly 22 million tweets labeled in the runup to the 2020 vote.

It's crucial to reiterate: EIP was partnered with state entities like CISA and GEC while seeking elimination of millions of tweets. According to the documents, Twitter execs did not distinguish between organizations, using phrases like "According to CIS[A], escalated via EIP."

After the 2020 election, when EIP was renamed the Virality Project, the Stanford lab was on-boarded to Twitter's JIRA ticketing system, absorbing this government proxy into Twitter infrastructure – with a capability of taking in an incredible 50 million tweets a day.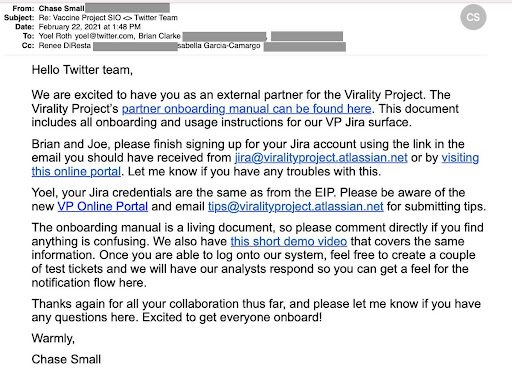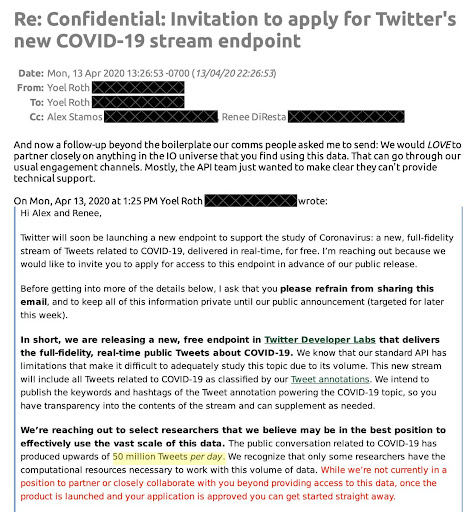 In one remarkable email, the Virality Project recommends that multiple platforms take action even against "stories of true vaccine side effects" and "true posts which could fuel hesitancy."
None of the leaders of this effort to police Covid speech had health expertise.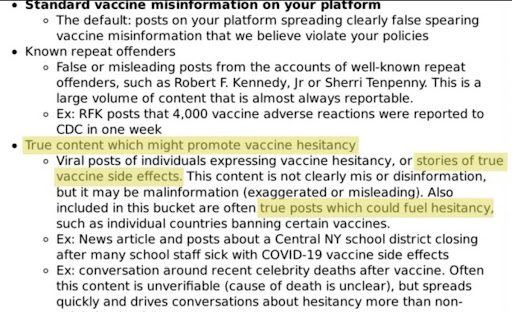 This is the Censorship-Industrial Complex at its essence: a bureaucracy willing to sacrifice factual truth in service of broader narrative objectives. It's the opposite of what a free press does. 
Profiles portray DiResta as a warrior against Russian bots and misinformation, but reporters never inquire about work with DARPA, GEC, and other agencies. In the video below from @MikeBenzCyber, Stamos introduces her as having "worked for the CIA":
DiResta has become the public face of the Censorship-Industrial Complex, a name promoted everywhere as an unquestioned authority on truth, fact, and Internet hygiene, even though her former firm, New Knowledge, has been embroiled in two major disinformation scandals.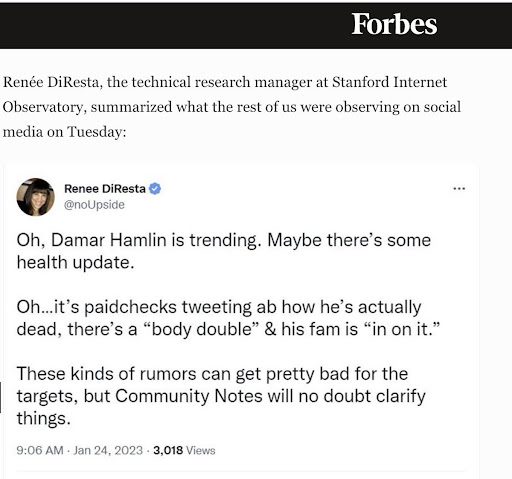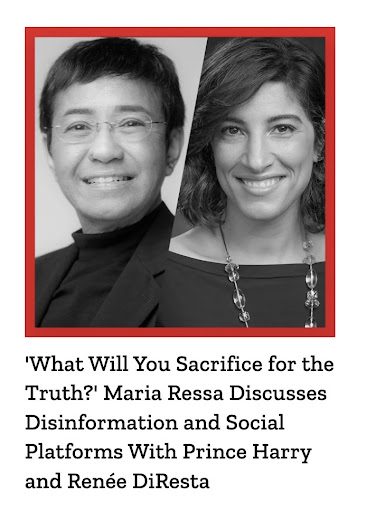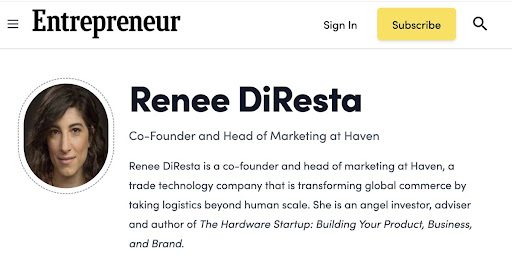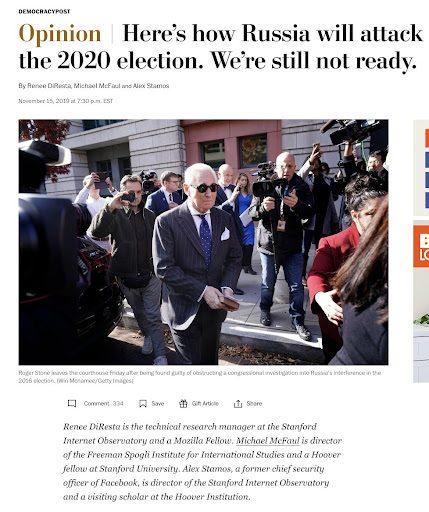 This, ultimately, is the most serious problem with the Censorship-Industrial Complex.
Packaged as a bulwark against lies and falsehood, it is itself often a major source of disinformation, with American taxpayers funding their own estrangement from reality. 
DiResta's New Knowledge helped design the Hamilton 68 project exposed in the Twitter Files.
Although it claimed to track "Russian influence," Hamilton really followed Americans like "Ultra Maga Dog Mom," "Right2Liberty," even a British rugby player named Rod Bishop: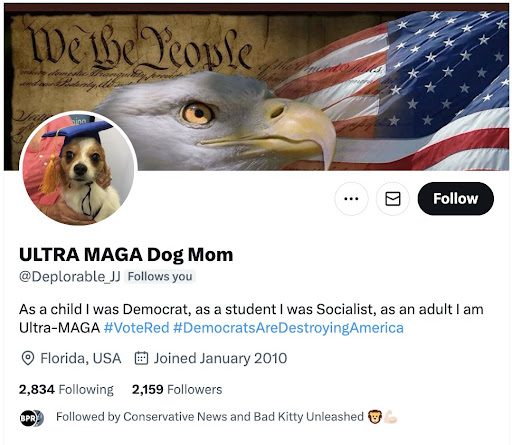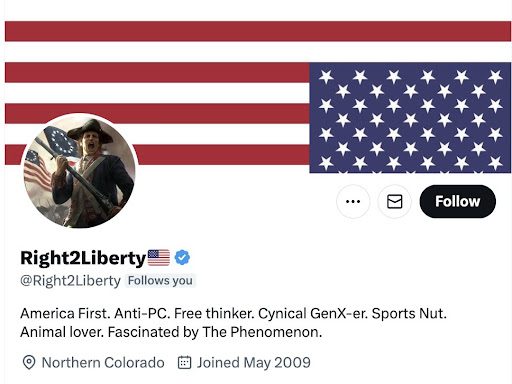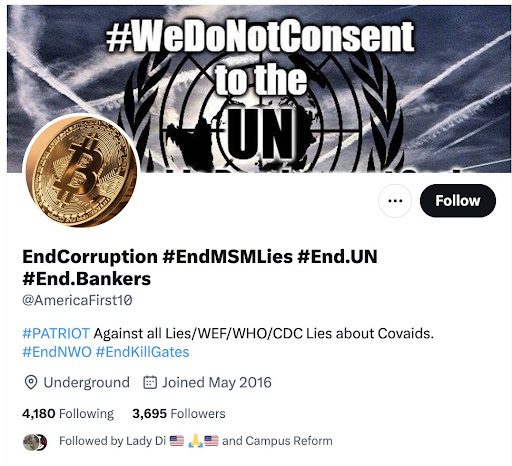 Told he was put on the Hamilton list of suspected "Russian influence" accounts, Bishop was puzzled.
"Nonsense. I'm supporting Ukraine," he said. 
As a result of Hamilton's efforts, all sorts of people were falsely tied in press stories to "Russian bots": former House Intel chief Devin Nunes, #WalkAway founder @BrandonStraka, supporters of the #FireMcMaster hashtag, even people who used the term "deep state":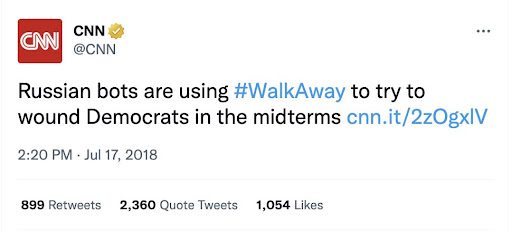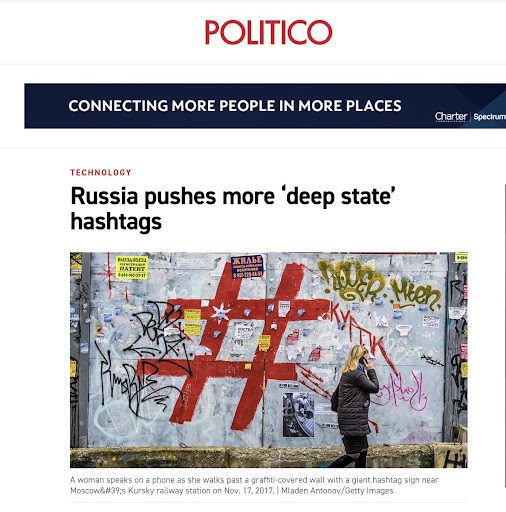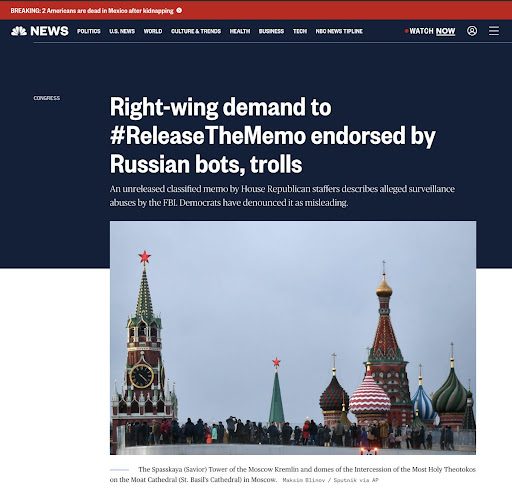 Hamilton 68 was funded by the Alliance for Securing Democracy, which in turn was funded by the German Marshall Fund, which in turn is funded in part by – the Department of State.
The far worse scandal was "Project Birmingham," in which thousands of fake Russian Twitter accounts were created to follow Alabama Republican Roy Moore in his 2017 race for US Senate.
Newspapers reported Russia seemed to take an interest in the race, favoring Moore.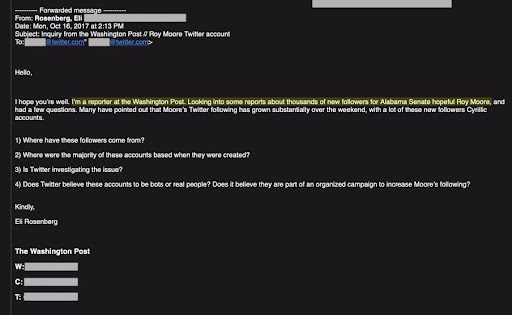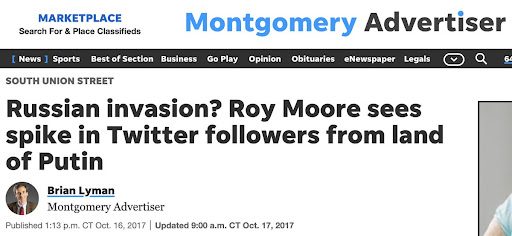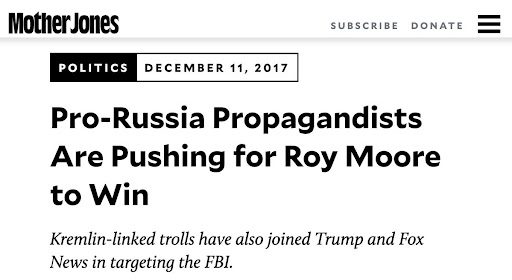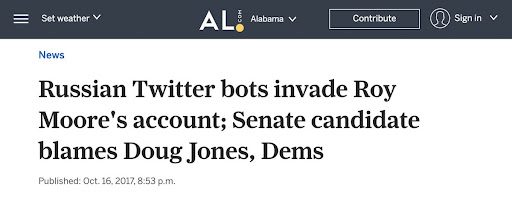 Though at least one reporter for a major American paper was at a meeting in September, 2018 when New Knowledge planned the bizarre bot-and-smear campaign, the story didn't break until December, two days after DiResta gave a report on Russian interference to the Senate.
Internally, Twitter correctly assessed the Moore story as far back as fall of 2017, saying it had no way of knowing if the Moore campaign purchased the bots, or if "an adversary purchased them… in an attempt to discredit them."

Twitter told this to reporters who asked about the story contemporaneously. Moreover, after the story broke, Twitter's Roth wrote:
"There have been other instances in which domestic actors created fake accounts… some are fairly prominent in progressive circles."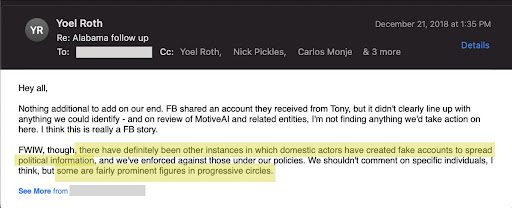 Roth added, "We shouldn't comment." Repeatedly in the documents, when Twitter learned the truth about scandals like Project Birmingham, they said nothing, like banks that were silent about mortgage fraud.
Reporters also kept quiet, protecting fellow "stakeholders." 
Twitter stayed silent out of political caution. DiResta, who ludicrously claimed she thought Project Birmingham was just an experiment to "investigate to what extent they could grow audiences… using sensational news," hinted at a broader reason.

"I know there were people who believed the Democrats needed to fight fire with fire," she told the New York Times.
"It was absolutely chatter going around the party."

The incident underscored the extreme danger of the Censorship-Industrial Complex. Without real oversight mechanisms, there is nothing to prevent these super-empowered information vanguards from bending the truth for their own ends. 
By way of proof, no major press organization has re-examined the bold claims DiResta/New Knowledge made to the Senate – e.g. that Russian ads "reached 126 million people" in 2016 – while covering up the Hamilton and Alabama frauds. If the CIC deems it, lies stay hidden. 
In the digital age, this sprawling new information-control bureaucracy is an eerie sequel to the dangers Dwight Eisenhower warned about in his farewell address, when he said:
"The potential for the disastrous rise of misplaced power exists."

Ty and Charlene have been on this mission together to reach as many people around the world with the truth that saves lives as they can, and
they need your help!
As you know, they are being censored with many other truth tellers.Please support their mission by
sharing this article
! Next, you can support them by going to
www.thetruthaboutcancer.com
and
signing up
for their FREE Newsletter!Also,
join Ty & Charlene
on Alt Social Media platforms where the TRUTH is allowed and join the discussion there!
Follow, Subscribe, & SHARE: