"In every culture and in every medical tradition before ours, healing was accomplished by moving energy." – Nobel-prize winning researcher Albert Szent-Gyorgyi (1937)
Meridian Tapping, otherwise known as Emotional Freedom Technique (EFT), or Tapping, has been around in one form or another since the 1980s, although the foundational principles are much older. Over the last 40 years, science has discovered how this simple tool can benefit not just psychological conditions such as anxiety and depression, but physical healing as well.
Tapping (EFT) Works through the Energy Meridians of the Body
Simply put, tapping helps to unblock energy; it literally gets things moving again. It operates on the principles of Traditional Chinese Medicine (TCM) and its energy meridian system, although some Tapping experts speak of it in terms of quantum physics. In TCM, disease occurs when energy channels are blocked in some way. EFT works on specific "tapping points" that are associated with emotions and patterns on the subconscious level. Because of this, part of this healing naturally encompasses clearing out the emotions that are directly related to disease.
Bruce Lipton, author of Biology of Belief, says that EFT is effective because it can help us "reprogram" harmful and long-held subconscious belief patterns and replace them with healthier ones.
EFT Helps to Heal the Root Cause of Disease
An amazing example of the complementary power of EFT was experienced by Dr. Dianne Ruth, an Anxiety and Depression Care Coach from San Diego, California, and founder of Dynamic Resources International. Dr. Ruth began learning from Dr. Roger Callahan, creator of Field Therapy (TFT), in the late 1980s. Dr. Callahan eventually became mentor to Gary Craig, originator of Emotional Freedom Technique. TFT is thought to be the precursor to EFT.
Over the last 30+ years, Dr. Ruth has worked with hundreds of clients using EFT and other modalities. Then, just a couple of years ago, Dr. Ruth was diagnosed with severe macular degeneration and declared legally blind.
"I felt like I had lost all my independence…," explains Dr. Ruth. "How was I going to take care of myself for the rest of my life? It was very frightening."
Then her partner Judie Keys, CCH, a coach and Reiki master, began doing deep emotional work with her, including a modality called timeline therapy. At the same time, Dr. Ruth decided to step up her own work with EFT. The results were remarkable.
"We discovered the cause of my blindness," explains Dr. Ruth. "One of the things that the timeline therapy brought up was a memory that I had completely forgotten about. About thirty years ago, I was living with a very abusive husband. We got into a huge argument over something. He yelled at me: 'When you get old, you are going to go blind!' "
"That imprinted on me on a deep level…" she says. "I had believed that when I got old, I would go blind. And guess what? I am now old and I went blind."
Dr. Ruth immediately began tapping to clear the imprint the memory had had on her. Over the course of about six months, her vision began to improve:
"Nobody believed that this was really happening. Finally, I reached a point where [my opthamologist] said, 'You are no longer blind. You can drive!' "
Using her own Discreet Method™, Dr. Ruth now teaches EFT to blind individuals through The Braille Institute as well as with her own private-practice clients.
Tapping EFT and the Stress Response
"For many of us, the internally-generated stress response is triggered by a negative memory or thought that has its roots in past trauma or conditioned learning from childhood," explains Nick Ortner, author of The Tapping Solution. "The stress response in the body takes the same form, whether the trigger is the tiger (external) or a negative memory (internal)."
A 2012 report put out by the American Psychological Association found that 22% of Americans experience high levels of stress on a regular basis. And, of course, the connection between high stress and cancer is crystal clear. According to a 2016 study by the University of Buenos Aires, daytime cortisol levels are often higher in those with cancer than those who do not have the disease.
Cortisol is produced by the adrenal glands and becomes elevated during "fight or flight" mode. Normal cortisol production is actually essential for many bodily functions. In fact, cortisol in "short bursts" has been shown to improve immune system function.
Chronically high cortisol levels, however, can have a devastating effect. It has been linked to the inhibition of Natural Killer Cells, lower production of the immune system messenger interleukin, and thymus gland shrinkage. It has also been linked to high blood pressure and loss of mental function.
The good news is that simply adding Tapping to your daily routine can quickly lower cortisol levels overall. A 2013 study sponsored in part by the University of Arizona found that veterans diagnosed with PTSD experienced such dramatic reductions in cortisol levels after just 6 weeks of EFT training that 90% of them were declared "no longer meeting the criteria for someone who has PTSD."
Other clinical trials have found a correlation between EFT and the lessening of chronic pain and fibromyalgia as well as the side effects of chemotherapy.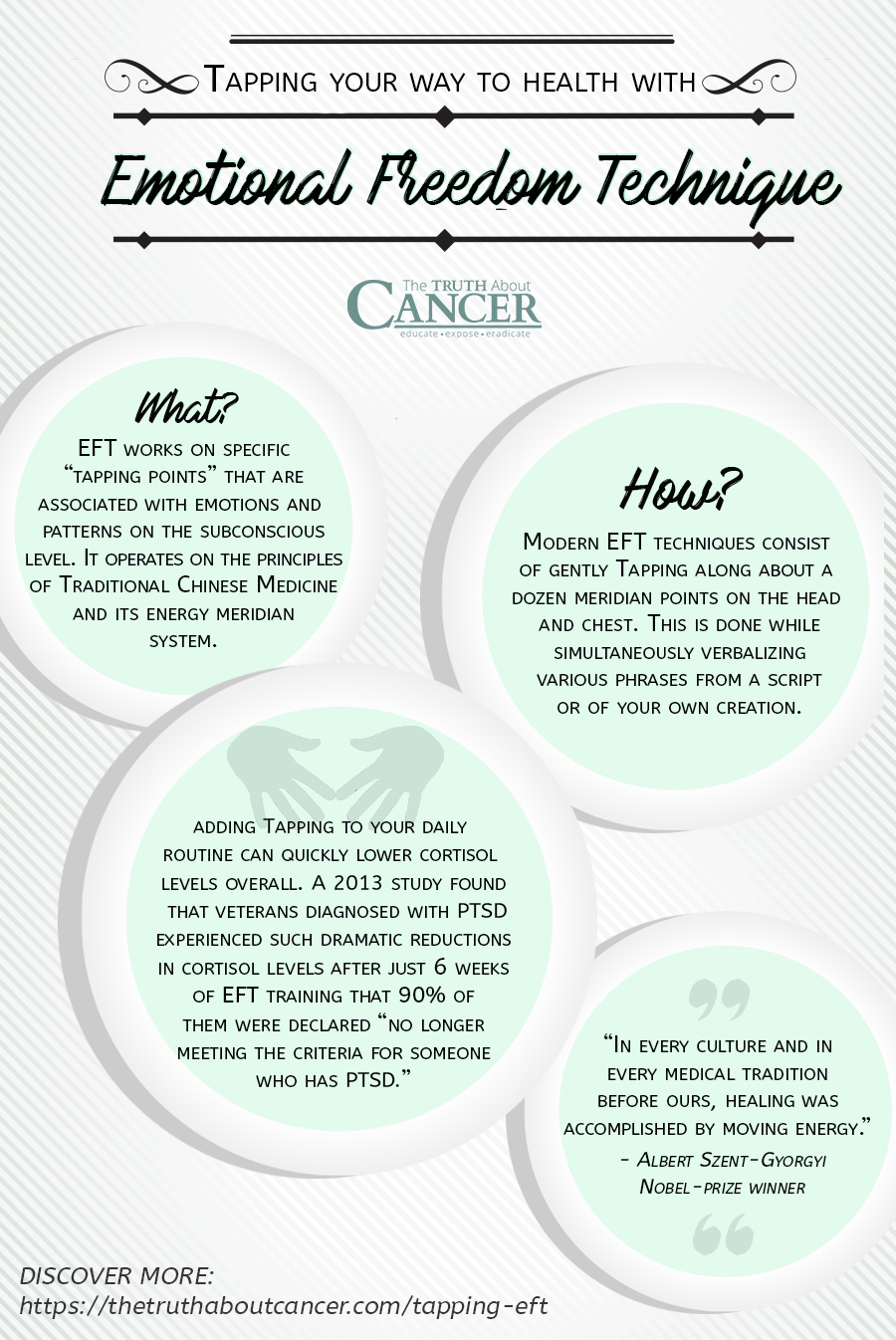 Anyone Can Do EFT and See Results!
Modern EFT techniques consist of gently Tapping along about a dozen meridian points on the head and chest. This is done while simultaneously verbalizing various phrases from a script or of your own creation. The process typically includes a quick pre- and post-session self-evaluation which allows you to measure how effective your tapping session has been. After three 5 to 10-minute sessions, most Tapping practitioners begin to feel a significant lessening of discomfort overall.
In some situations, such as for Dr. Ruth's Braille Institute students, an even simpler method consisting of gentle finger Tapping can be used. Dr. Ruth claims that according to TCM, this works just as well since there are points on the fingertips which connect with every organ system. Other experts, such as Donna Eden, author of Energy Medicine, have developed approaches that emphasize Tapping along the entire body.
For a quick tutorial on basic EFT techniques, check out Nick Ortner's 4- minute Tapping Demo HERE.
The main thing to remember when you are first starting out with Tapping is that you really can't do it wrong. Dr. Ruth puts it simply:
"EFT is a very flexible, forgiving system…if it is working for you, that is what counts. If you were to go to a dozen different trainers in EFT, chances are you would be taught a dozen different variations and ways of doing it. And they ALL work!"
 Want to stay abreast of new ways to stay healthy? Be notified each week when cutting-edge articles are added by clicking here. You'll be glad you did.