Demand for organic products has increased substantially over the last several years. Experts in the industry predict that the organic farming industry will continue to increase no less than 9% annually. This demand for organic goods has been fueled by consumer desire for food produced without chemicals including pesticides, herbicides, and fertilizers. (Unfortunately, despite the growth in the demand for organic, the use of chemicals in food production still continues to increase.)
Another area impacted by consumer demand is the meat industry. New meat designations are showing up on packages touting such terms such as "grass-fed," "grain-fed," and organic. If you are a health-conscious consumer, this begs the question… how do you know you're buying the best quality organic meat on the market? Here are some helpful tips for understanding meat labels in the U.S….
Top Quality Beef Rankings to Look For
With all of the labels to choose from, it can be overwhelming to understand which meats meet the highest standards for the health of your family. The meat labels below generally involve the practice of raising cattle with higher quality stands and fewer chemicals. The following provides a description of the four best categories in beef production that you can choose from:
100% Grass-Fed: The highest quality of organic meat available. Cattle are raised exclusively on a grass-fed diet from birth to slaughter. Grass-fed animal products for ruminants (beef, bison, goat, lamb, and sheep) must meet the four criteria:
Animals are fed only grass from weaning, with supplemental food only as needed − such as hay, crop residue not containing grain, and other roughage sources
Animals are never confined to feedlots and only raised on a pasture
Animals never receive antibiotics or growth hormones
Animals originate from American farms
Grass-Fed: Cattle have the ability to graze for food but are also provided with supplemental alternatives. Grass-fed cattle may also be fed grain the last 2-3 months of life before slaughter.
Organic: The term "organic" means that the cattle were raised with strict regulations and annual verification of standards being met by a USDA official including:
Born and raised on a certified organic pasture
Not confined to a feedlot but must have unrestricted access to naturally graze outdoors
Sanitary conditions must be maintained
Cattle cannot be overcrowded
All synthetic contaminant exposure must be avoided including hormones, antibiotics, GMOs, and artificial fertilizers and pesticides
Disadvantages: May be fed corn and/or grain − although this food source must be organic.
Natural: Standards for this label include minimally processed meat that meet the following criteria:
Cannot contain artificial ingredients such as preservatives, coloring, or flavoring
Cannot contain salt or additives
Disadvantages: Can include meat raised in factory feedlots. No verifications to know whether meat contains antibiotics or hormones. Food source for the animal can be genetically modified (GMO).
The Health Consequences of Faster and Cheaper Meat Production
Factory farming confines animals to a feeding operation and surrounding environment that does not mimic the animal's natural lifestyle (what it would be in the wild). More than 90% of beef alone produced in the United States is sourced from conventional production systems (factory farms).
Unfortunately, as food chain growth demands cheaper priced food at a faster rate, the animals and the humans who consume them both end up suffering the consequences of these unhealthy practices. Lack of optimal standards results in the following:
Increased animal stress
Reduction of the animal product's nutritional content
Potential contamination from synthetic chemicals and genetically modified food sources
Need for antibiotics due to a higher risk for illness and bacterial contamination; and
Increased likelihood of antibiotic-resistant bacteria
Such interventions have caused human health problems due to the consumption of this cheap-quality meat. Harmful practices in the past such as feeding cattle other cattle meat resulted in the neurological disorder we now know as mad cow disease or bovine spongiform encephalopathy.
The Nutritional Difference Between Factory Farmed and Organic Meat
Today we pack animals into cages and subject them to unnatural habitats, despite knowing that these practices lower the nutritional content of the meat product. Conventionally raised animals contain lower amounts of key vitamins, antioxidants, and omega-3 fatty acids.
Data from three decades of research shows that grass-fed animals have a healthier nutrient profile compared to grain-fed animals. Grass-based diets support a healthier fatty acid ratio of omega-3 fats to omega-6 fats as well as conjugated linoleic acid (CLA) and compounds used to produce CLA and omega-3 fats. These studies also support that grass-fed animal products contain higher levels of vitamin A, E, and the antioxidant powerhouses glutathione and superoxide dismutase.
Grain-Fed Meat Can Be Hazardous to Your Health
Cattle that are raised on a grain-based diet contain a significantly higher fat content than grass-fed meat. Animals raised on grain or those predominantly grass-fed but finished with a grain-fed diet contain higher amounts of inflammatory fats that increase free radical activity and trigger chronic disease.
This conventional meat further offers fewer compounds required for the metabolism of essential fatty acids α-linolenic acid (αLA) and omega-3 fats.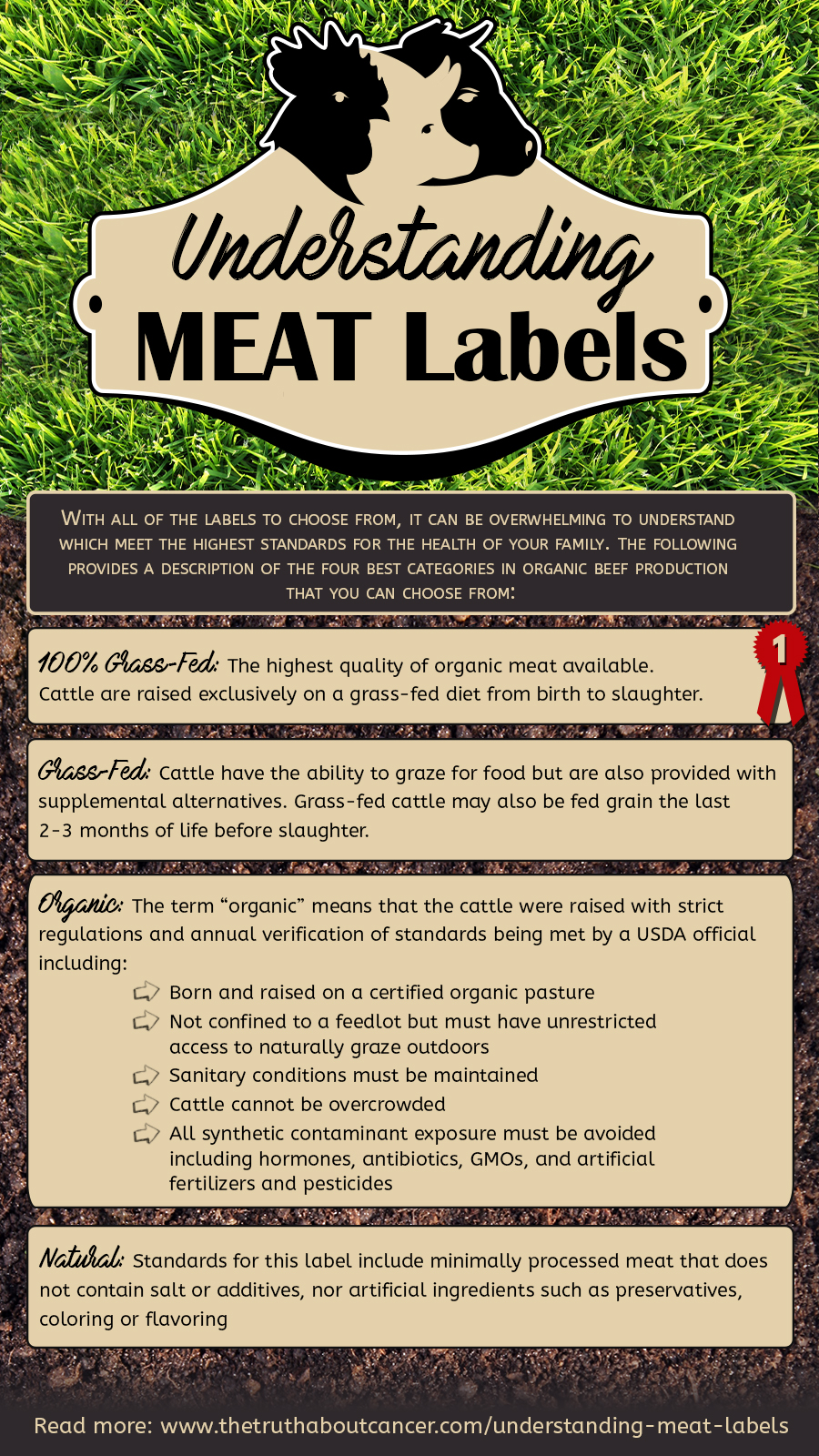 Truths About Organic Meat
Farmers are offered a higher payout for their production of meat products based on the weight of the animals they sell. Animals raised solely on grass are leaner and therefore offer less of a profit compared to grain-fed animals. For this reason, a grass-fed cow may have grazed from grass the majority of its life until the animal is ready to be fattened and slaughtered. Unlike 100% grass-fed or pasture raised, the grass-fed label can allow for a "grain-finish" to add weight to the animal.
Despite its more desirable label, animal products certified organic and those 100% grass-fed are typically vaccinated. The effectiveness of vaccinations permitted in organic livestock has long been a center of debate with farmers and consumers. These vaccines are intended to protect animals against infectious diseases that threaten livestock just as viruses, bacteria, and parasites pose a danger to humans.
Unlike human studies, less is known about the effects of animal vaccinations and their threat to animal and human health and safety. Animal vaccines contain toxic ingredients such as formaldehyde, aluminum, mercury, MSG, and a variety of other additives to protect the viability of the biological agents they contain.
Labels to Look for When Buying Poultry
Pasture raised benefits not only increase ruminant health and therefore the health of those who consume the meat, but also improves the nutrient density of eggs. Pasture raised eggs are shown to have higher levels of antioxidants and nutrients that support neurological health. Some of these nutrients include choline, biotin, vitamins K2, D3, and E, amino acids, as well as fatty acids CLA and omega-3 fatty acids.
Understand the difference in labeling and look for the following seals of approval on your poultry and eggs for optimal health benefits:
Organic, Pasture-Raised: Pastured poultry are raised solely on green pasture with access to indoors when in need of protection. Organic poultry must consume a soy-free, organic-sourced diet that does not allow genetically modified seeds or crops. Requirements also pertain to how the poultry meat and eggs are processed to avoid risk of contamination. Pasture-raised poultry and egg products are typically processed on the same farm where the animals are raised.
Pasture-Raised: HFAC (Humane Farm Animal Care) offers a top label for pasture-raised poultry standards.
Certified Organic: The feed source is 100% organically grown and does not allow genetically modified seeds or crops.
Other labels on eggs including "cage-free," "free-range," "omega 3-enriched," "vegetarian fed," and "natural raised" are likely to have been fed a diet of GMO grains.
How to Find Top Quality Meats and Poultry Products
Not all grass-fed animal products are verified organic and vice versa. For the highest quality grass-fed meats look for organic certified that are 100% grass-fed cattle raised by local farmers that move cattle to fresh pastures regularly. Rotational grazing ensures the optimal nutrients available for feed and reduces the risk of exposure to pathogens. This process allows resting periods for the pasture to rebuild maximum health and nutrients.
When looking for pastured poultry meat and egg products, find a local farmer whose farm you can visit for verification of practices including 100% organically grown grass. Some farmers allow you to pick up poultry directly from the farm or through CSA (community supported agriculture) drop off locations and farmers markets.
Keep in mind that local farms are often small and unable to afford fees associated with high quality certifications. However these farms may offer you products that are equal in quality to any large scale certified organic farm you may buy from, and in many cases may even be better.
Online Retailers of Organic Meat & Poultry
If such farms or practices are unavailable near you, look for a farm that will ship directly to you. The American Grassfed Association certification offers the strictest 3rd party verification guidelines. Online farmer retailers offer the best transparency of their farming practices and accreditations, and are usually eager to answer questions and concerns you may have.
Do you read meat labels? If you eat meat, where do source it from? Please share your thoughts in the Comments section below.