TTAC is experiencing heavy censorship on many social media channels since we've been targeted by the mainstream media sellouts, social media bullies, and political turncoats. Be sure to get the TRUTH by subscribing to our email list. It's free.

Blueberries are the second most popular berry in the United States. They are delicious and versatile in regards to cooking, but it is their nutritional content that really makes these berries shine!
The health benefits of blueberries are abundant whether they are fresh or frozen. Since their antioxidant power isn't diminished by freezing, you can enjoy them year-round. This is great news for those who don't have access to fresh berries or who tend to avoid the costlier fresh blueberries in their grocer's produce section.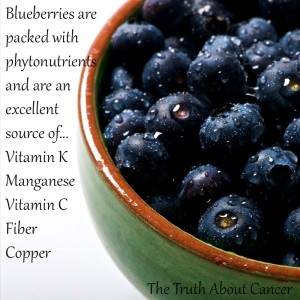 If you want to boost the power of blueberries, consider organic options. Researchers compared traditionally grown to organically grown berries and discovered that the organic variety had more phenol and anthocyanin antioxidants overall.  
Highbush blueberries are the most common variety grown in the US but lowbush (also called "wild" blueberries) are equally as nutritious. These little berries grow on a shrub and mature to a lovely blue or purple hue.  
Blueberries are naturally nutrient dense for a fruit. That means they are low in calories while they provide excellent levels of fiber, vitamin C, vitamin K, fiber, copper, and manganese. In fact, they are believed to provide the highest concentration of antioxidants available in commonly consumed fruits and vegetables. Their water content also provides delicious hydration to every cell.  
There are many well-known health benefits of blueberries and researchers give the credit to the anthocyanins, catechins, and other polyphenols they contain.  
Fight Cancer with Every Delicious Bite
Your DNA is under attack from oxidative stress every day. Free radicals caused by the natural process of oxidation run rampant in your body. Your diet and lifestyle determine the level of oxidation more than any other factors.  
The positive results of multiple studies have found that regular consumption of blueberries lowers your risk of cancers of the breast, colon, bladder, lung, esophagus, skin, and small intestine.
In an animal-based study out of Rutger University, an antioxidant called pterostilbene reduced the rate of pre-cancerous lesions of the colon by 57 percent over the animals that didn't receive the blueberry diet. The human equivalent was two servings or a 1 ½ cups of blueberries per day.  
The New England Research Institute studied more than 42,000 men and found that those with the highest amounts of natural (rather than supplement) vitamin C had a 50 percent lower risk of mouth lesions
Blueberries Help Your Body Fight the #1 Killer in the United States
Other blueberry health benefits include their ability to fight heart disease. They have been shown to lower LDL cholesterol while controlling lipoprotein oxidation that leads to hardening of the arteries (atherosclerosis).  
They also lower high blood pressure (hypertension) by as much as 6 percent according to several studies. Hypertension is a leading risk factor of heart disease and patients may not exhibit symptoms for years! Blueberries lowered overall risk of heart attack by a whopping 32 percent in a trial that included more than 90,000 nurses.  
Eat Your Way to a Cancer-Free Life!
When you follow a cancer-free lifestyle, you automatically lower your risk of many other serious diseases that claim the lives of millions every year.  
Adding anti-cancer foods such as blueberries to your diet is a crucial aspect of total body wellness. Choose wisely, shop responsibly, eat cleanly, and reap the benefits for decades to come!


Ty and Charlene have been on this mission together to reach as many people around the world with the truth that saves lives as they can, and
they need your help!
As you know, they are being censored with many other truth tellers.Please support their mission by
sharing this article
! Next, you can support them by going to
www.thetruthaboutcancer.com
and
signing up
for their FREE Newsletter!Also,
join Ty & Charlene
on Alt Social Media platforms where the TRUTH is allowed and join the discussion there!
Follow, Subscribe, & SHARE: