TTAC is experiencing heavy censorship on many social media channels since we've been targeted by the mainstream media sellouts, social media bullies, and political turncoats. Be sure to get the TRUTH by subscribing to our email list. It's free.

Do you remember the "Mad Hatter" from Alice and Wonderland? Did you know that the term "mad as a hatter" originated from a disease peculiar to the hat making industry in the 1800s?
A complicated set of processes was needed to turn fur into a finished hat. With cheaper fur, an early step was to brush a solution of mercury compound on the fur to roughen the fibers. This caused the hat makers to breathe in the fumes of this highly toxic metal, leading to an accumulation of mercury in the hatter's bodies.
This resulted in trembling (known as "hatters' shakes"), slurred speech, loss of coordination, anxiety, personality changes, depression, and memory loss which eventually became known as "Mad Hatter Syndrome." This term is still used today to describe mercury poisoning.
Fast forward 200 years, and let's focus on pharmacists rather than hat makers…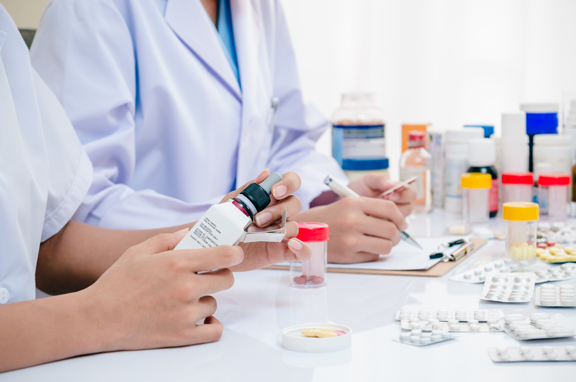 Back in September 2004, the Centers for Disease Control and Prevention (CDC) and the National Institute for Occupational Safety & Health (NIOSH) released a dangerous-drug alert with the title Preventing Occupational Exposures to Antineoplastic and Other Hazardous Drugs in Health Care Settings. The alert warned that working with chemotherapy drugs and other common pharmaceuticals can be a serious danger to your health.
They were right because on July 10, 2010, the Seattle Times carried the story of Sue Crump, a veteran pharmacist of 20 years, who had spent much of her time dispensing chemotherapy drugs. Sue died in 2011 from pancreatic cancer and one of her dying wishes was that the truth be told about how her on-the-job exposure to toxic chemotherapy drugs caused her own cancer. The list of chemicals Crump worked with included cyclophosphamide, doxorubicin, fluorouracil, and methotrexate.
Does Chemotherapy Cause Cancer?
I am not surprised by Sue's story because one of the effects of chemotherapy is that it actually CAUSES cancer! (Yes, the very thing it is supposed to "cure" it literally causes. Insane, right?)
You may have heard it said that folks who live in glass houses shouldn't throw stones. Well, much like the hatters who went mad from the mercury, when it comes to chemo… pharmacists and other health care workers who dispense toxic drugs shouldn't be surprised if one day it kills them.
Interestingly, the federal Occupational Safety and Health Administration (OSHA) does not regulate exposure to these toxins in the workplace − despite multiple studies documenting ongoing contamination and exposures. Studies reaching back to the 1970s have linked increased rates of certain cancers to nurses and physicians.
Every oncologist knows that chemotherapy drugs cause genetic damage. Due to inadvertent spills, chemotherapy drugs have been found on floors, counter tops, knobs, keyboards, printers, computers, and garbage cans. Most chemo is genotoxic, meaning that it interacts with genes (DNA) and causes mutations. And yes, genetic mutations are a known risk factor for developing cancer, while secondary cancers are a known side effect (actually a "direct effect") of chemo.
Danish epidemiologists used cancer data from the 1940s through the 1980s to report a significantly increased risk of leukemia among oncology nurses and doctors. In 2009, another Danish study of over 92,000 nurses determined that they had an increased risk for brain cancer, breast cancer, and thyroid cancer.
Playing Chemo "Roulette"
Dr. Glenn Warner (who died in 2000), was one of the most highly qualified cancer specialists in the United States. He used alternative treatments on his cancer patients with great success. On the treatment of cancer in this country he said, "We have a multi-billion dollar industry that is killing people, right and left, just for financial gain.
Their idea of research is to see whether two doses of this poison is better than three doses of that poison."
Dr. Alan C. Nixon, past president of the American Chemical Society writes, "As a chemist trained to interpret data, it is incomprehensible to me that physicians can ignore the clear evidence that chemotherapy does much, much more harm than good."
And according to Dr. Charles Mathe, French cancer specialist, "If I contracted cancer, I would never go to a standard cancer treatment center. Only cancer victims who live far from such centers have a chance."
Truth be told, if a person has one type of cancer and allowed themselves to be injected with chemotherapy, this person will later often develop a different type of cancer as a result. The oncologist will likely claim to have cured their initial cancer even though a second or third cancer developed which was directly caused by the chemo used to treat the original cancer.
The serious toxic effects of chemotherapy have long been ignored by virtually everyone in medicine and the federal government. Chemotherapy  drugs have always been assumed to be safe just because they're used to treat cancer. This is an outright lie!
The truth is that chemo is toxic, carcinogenic (causes cancer), destroys erythrocytes (red blood cells), devastates the immune system, and destroys vital organs.
Obvious Signs that Chemotherapy is Highly Toxic

Think about it… a person's hair falls out, their immune system is destroyed, they are constantly nauseous and often vomit. Frequent dizziness is also the norm as are severe headaches. Are these signs that maybe, just maybe chemotherapy  is poison and doesn't belong in the human body? I'm not a doctor, but I think this is a very, very strange way to "heal" someone.
Chemotherapy is a derivative of the mustard gas used in World War I. As the Seattle Times reported, "A just-completed study from the U.S. Centers for Disease Control (10 years in the making and the largest to date) confirms that chemo continues to contaminate the work spaces where it's used and in some cases is still being found in the urine of those who handle it…"
Yet drugs (like Tamoxifen) are routinely used to "treat" breast cancer even though the World Health Organization declared Tamoxifen to be a "known carcinogen" in 1996. The level of quackery in the cancer industry is amazing. Chemotherapy doesn't work at anything other than causing cancer! If you have cancer and are considering chemotherapy, please ask yourself this vitally important question: If chemotherapy causes cancer, how can it also treat or cure cancer?
I absolutely love this quote from Mike Adams…
"Treating cancer with chemotherapy is like treating alcoholism with vodka. It's like treating heart disease with cheese, or diabetes with high-fructose corn syrup. Cancer cannot be cured by the very thing that causes it. Don't let some cancer doctor talk you into chemotherapy using his (or her) fear tactics. They're good at that. So next time he insists that you take some chemotherapy, ask him to take some first. If your oncologist isn't willing to take chemotherapy in front of you to prove it's safe, why on earth would you agree to have it injected in your body?"
Want to stay abreast of new ways to stay healthy? Be notified each week when cutting-edge articles are added by clicking here. You'll be glad you did.
Did you know cancer has natural predators?

Ty and Charlene have been on this mission together to reach as many people around the world with the truth that saves lives as they can, and
they need your help!
As you know, they are being censored with many other truth tellers.Please support their mission by
sharing this article
! Next, you can support them by going to
www.thetruthaboutcancer.com
and
signing up
for their FREE Newsletter!Also,
join Ty & Charlene
on Alt Social Media platforms where the TRUTH is allowed and join the discussion there!
Follow, Subscribe, & SHARE: